The Committee consists of a President, a Vice President, a Treasurer and at least two other members and they shall be elected by the Members at the Annual General Meeting in every year to hold office until the Annual General Meeting in the ensuing year. The President must always be a Swiss national and there shall not be more than two non-Swiss Members in the Committee at any one time.

All members serving on the committee act in an honorary capacity.
PRESIDENT
VICE PRESIDENT
TREASURER
EVENTS
PRESIDENT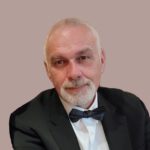 PRESIDENT
Daniel Buchmann
Contact: [email protected]
Overall responsible, contact to TOSI and other associations, marketing and membership issues.
VICE PRESIDENT
TREASURER
EVENTS
2023/09/27
The Yearly Annual General Meeting took place.
Updated  information here soon…